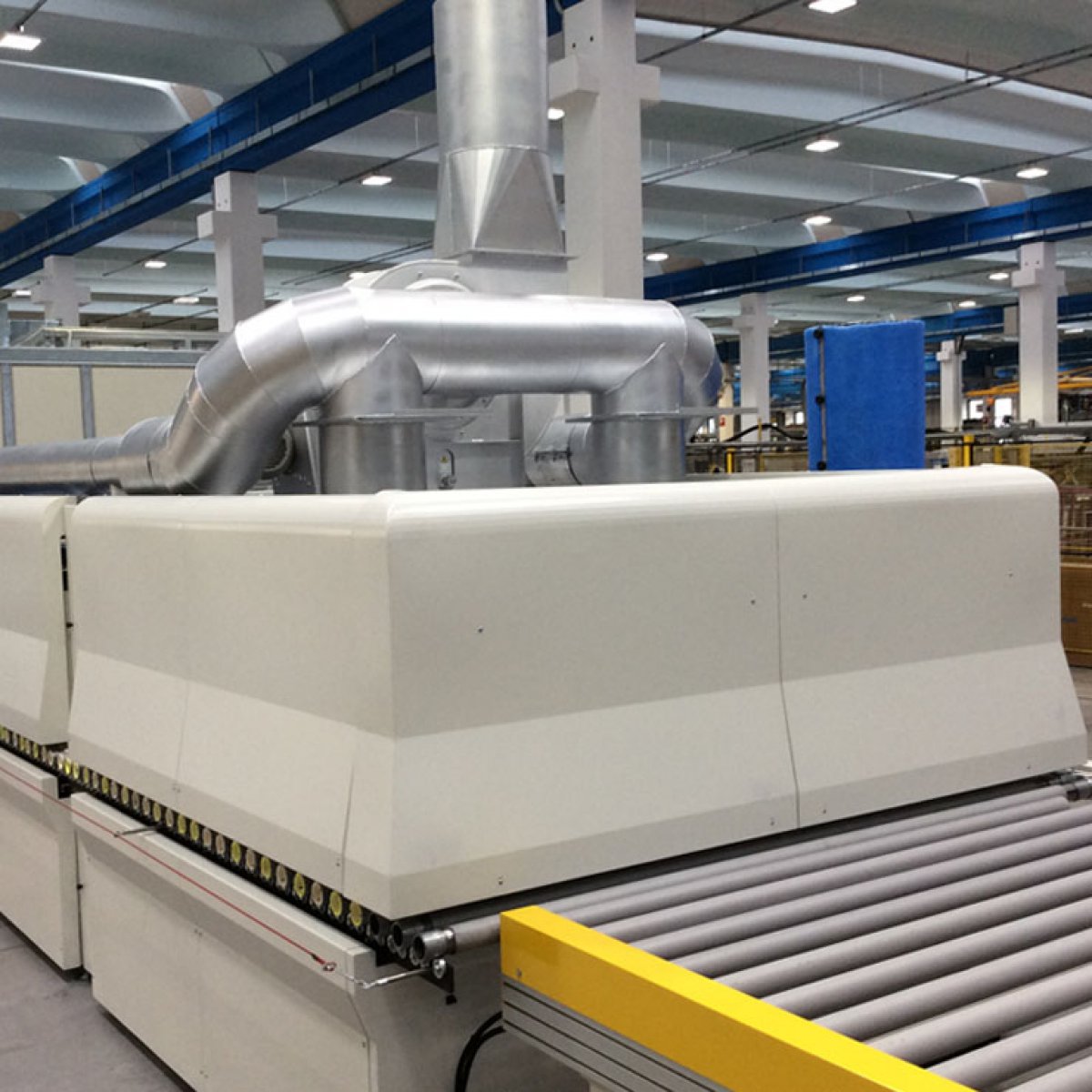 The Dryers designed and manufactured by Eurotech Way are suitable for drying any type of ink or enamel. They use a high-tech heating system with special insulating materials to reduce effect on consumption.
CONVEYING SYSTEM AND MOTORIZATION:
The conveying system is equipped with ground and polished ceramic alumina rollers. The motorization is by dry bevel gear with quick rollers coupling/release, controlled by an inverter.
HEATING ELEMENTS:
Supporting structure made of painted steel;
Heating element insulation sized according to the operating temperature;
Heating element inner lining made of reflective AISI 430, amplifying the heat power of the specific equipment;
HEATING SYSTEM:
The heating system of the elements consists of shielded heating resistor batteries at the top and bottom between the rollers.
The temperatures are controlled separately on each heating elements, and between the upper and lower part of the rollers, by special thermocouples and related self-regulators.
On each heating element there is a hot air forced convection system of hot air in closed circuit for maximum energy saving, composed of one ventilator controlled by inverter, and a battery of appropriate diffuser flutes.
This system ensures perfect distribution of hot air on the glass, managing the blow of air and temperature, according to production requirements thus achieving a perfect thermal balance in the heating elements.
The thermal insulation of the heating elements is made of high quality 100 mm thick insulation material, which allows the machine to work at a temperature of 250° ensuring maximum thermal insulation.
The internal insulation panels are placed in such a way that they do not create any contact with the external structure, avoiding the normal passage of heat and therefore a natural dissipation towards the outside.
The inner liner of the heating elements covering the insulation is made of stainless steel sheet reflecting brightness and temperature, in order to obtain maximum efficiency and heat exchange with consequent energy saving.
A capillary suction system placed on the entire perimeter of the heating elements, prevents any leakage of drying vapours generated by the paints, having a separate regulation at each suction point.
COOLING SYSTEM:
The cooling system consists of a set of high-pressure electroventilators separate for the system above the glass and for the system under the glass. The electroventilatos injects a considerable mass of air at room temperature inside the tunnel, which is dissipated through special diffusers, causing the cooling of the glass.
The air is filtered before diffusion inside the tunnel. The air injected into the tunnel is then suctioned by pipes connected to the main ventilator of the suction chimney
Information request
Please fill out the form below and our staff will get in contact with you as soon as possible.