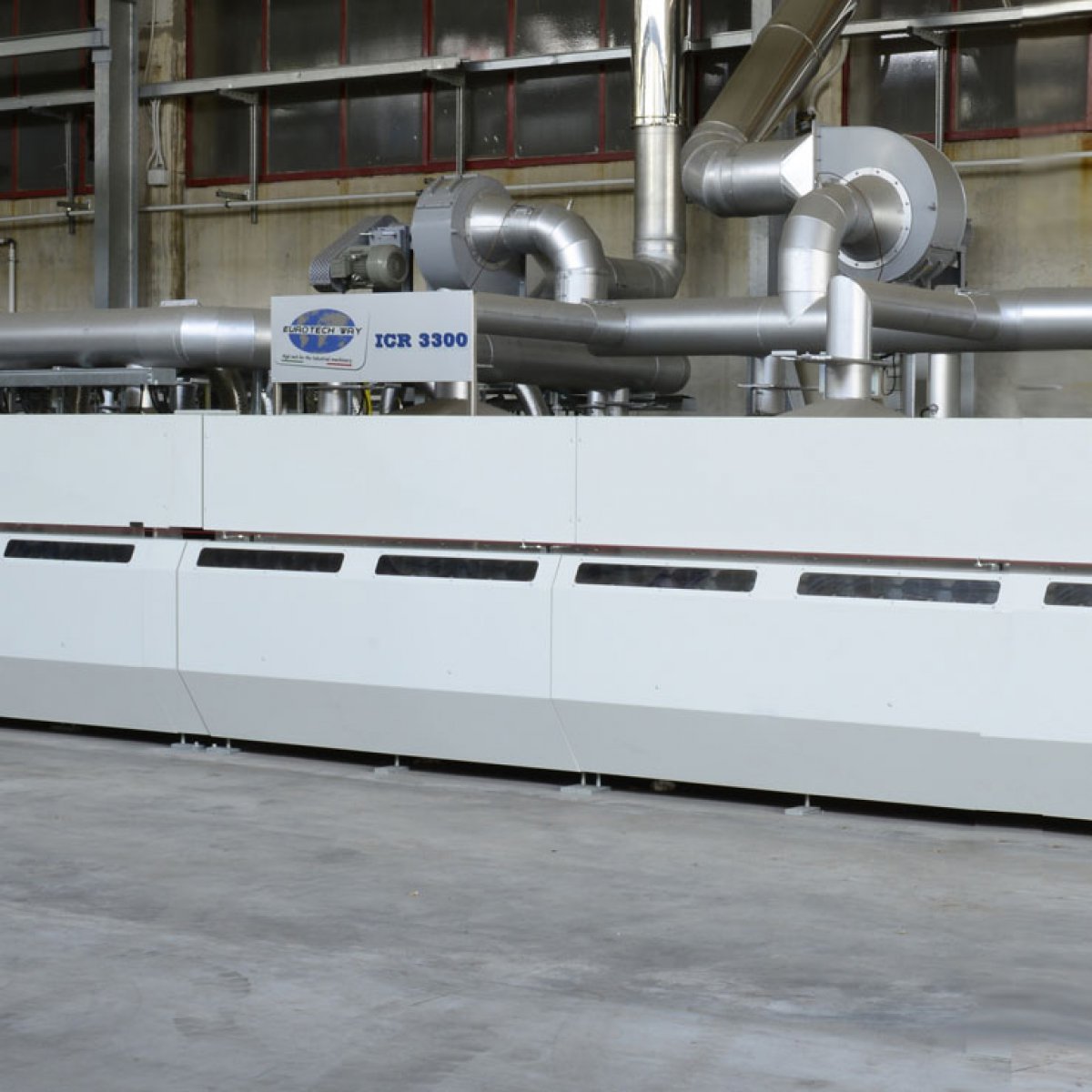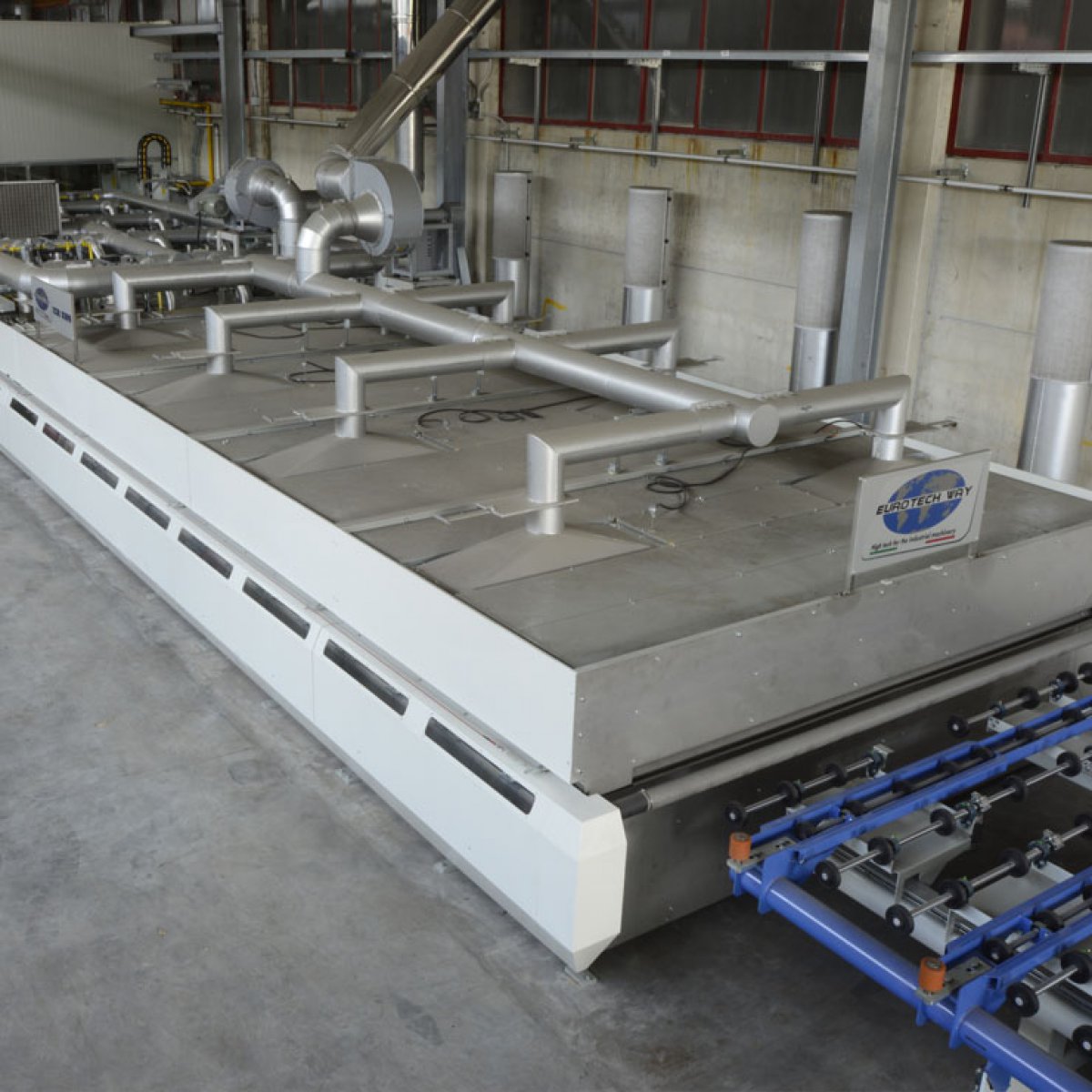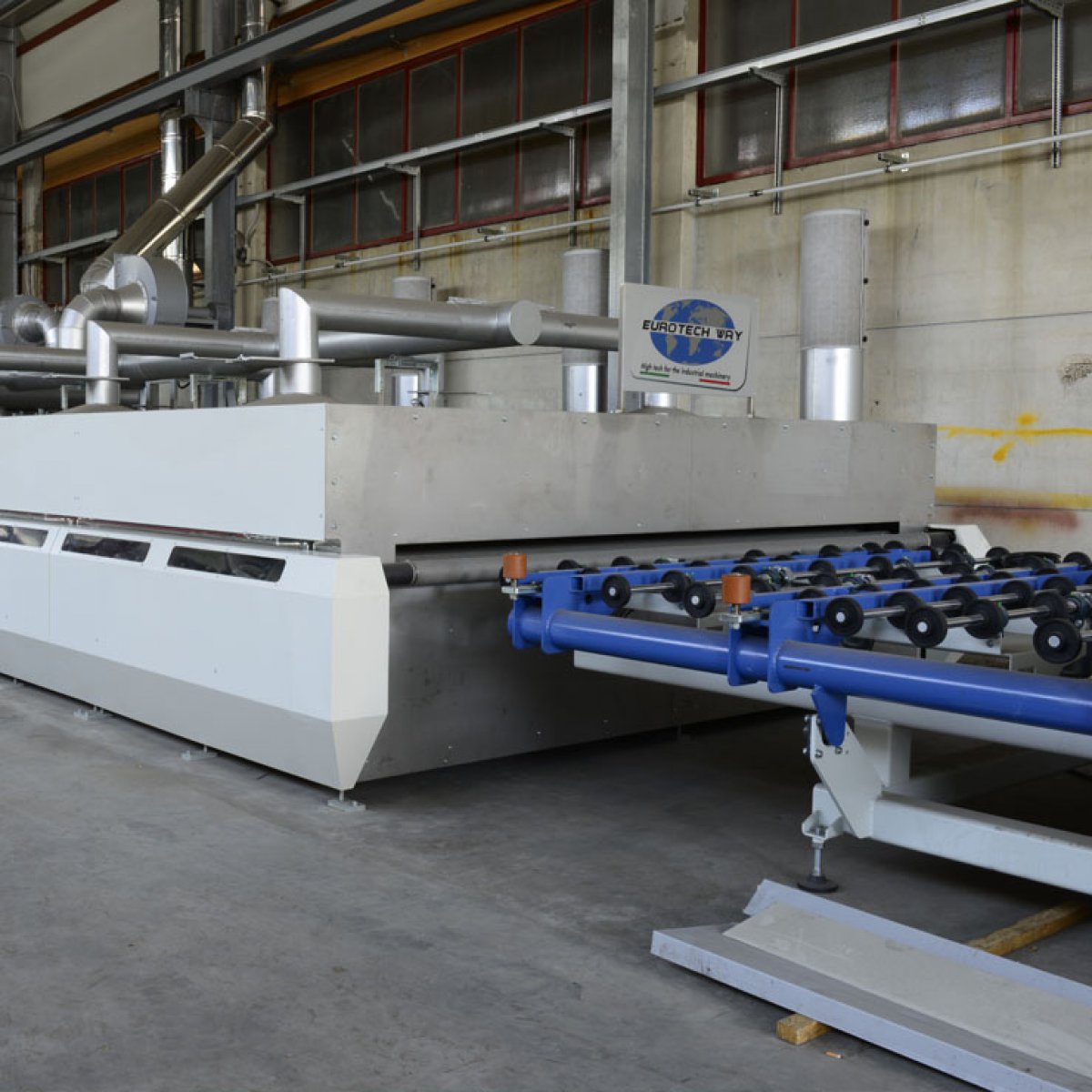 The Dryers designed and manufactured by Eurotech Way are suitable for drying any type of ink or enamel. They use a high-tech heating system with special insulating materials to reduce effect on consumption.
HEATING ELEMENTS:
Supporting structure made of painted steel;
Heating element insulation sized according to the operating temperature;
Heating element inner lining made of reflective AISI 430, amplifying the heat power of the specific equipment;
HEATING SYSTEM:
The upper side of the heating system consists of gas catalytic panels while the lower part is equipped with shielded resistors;
Heating system with hot air forced convection in a closed circuit for energy saving;
Stand-alone temperature control on the right/left sides, above/below the rollers; each heating element can be fitted with different thermal profiles;
Perfect thermal balance due to independent setting of temperature curves and constant control of the recirculating air volumes inside the chamber;
RECIRCULATION AND VENTILATION SYSTEM:
Fans controlled by inverter for a specific modularity of use. By injecting hot air into the blowing pipes inside the heating chamber, the heat is properly distributed on the glass in transit;
LIFTING-UP SYSTEM:
By means of mechanical jacks and related anti-fall safety devices, the upper heating elements can be 500 mm lifted up.
AIR RECIRCULATION AND VENTILATION SYSTEM:
Stand-alone cooling air distribution systems: one for the upper side and one for the lower side of the glass;
Air distribution system composed of slotted pipes for direct cooling, and closed pipes with air recirculation for indirect cooling;
Possibility of installing different thermal profiles in the upper and lower side of the rollers through inverter on the ventilators;
Hot air discharge chimneys equipped with intake that can be separately adjusted in each heating element.
CONVEYING ROLLERS (heating-cooling):
Steel conveying rollers coated with double-fibre braid directly on the roller, and an additional external shell coating in stainless steel AISI 316L in contact with the glass;
Information request
Please fill out the form below and our staff will get in contact with you as soon as possible.